IMPROVE YOUR PROFITABILITY.
Our All-in-One CRM is the most convenient way for your business to manage sales. Take advantage of consultation services and the marketing solutions we provide that create long-term customer relationships. Worry Less, Sell more by using Media Shield's SaaS for small businesses.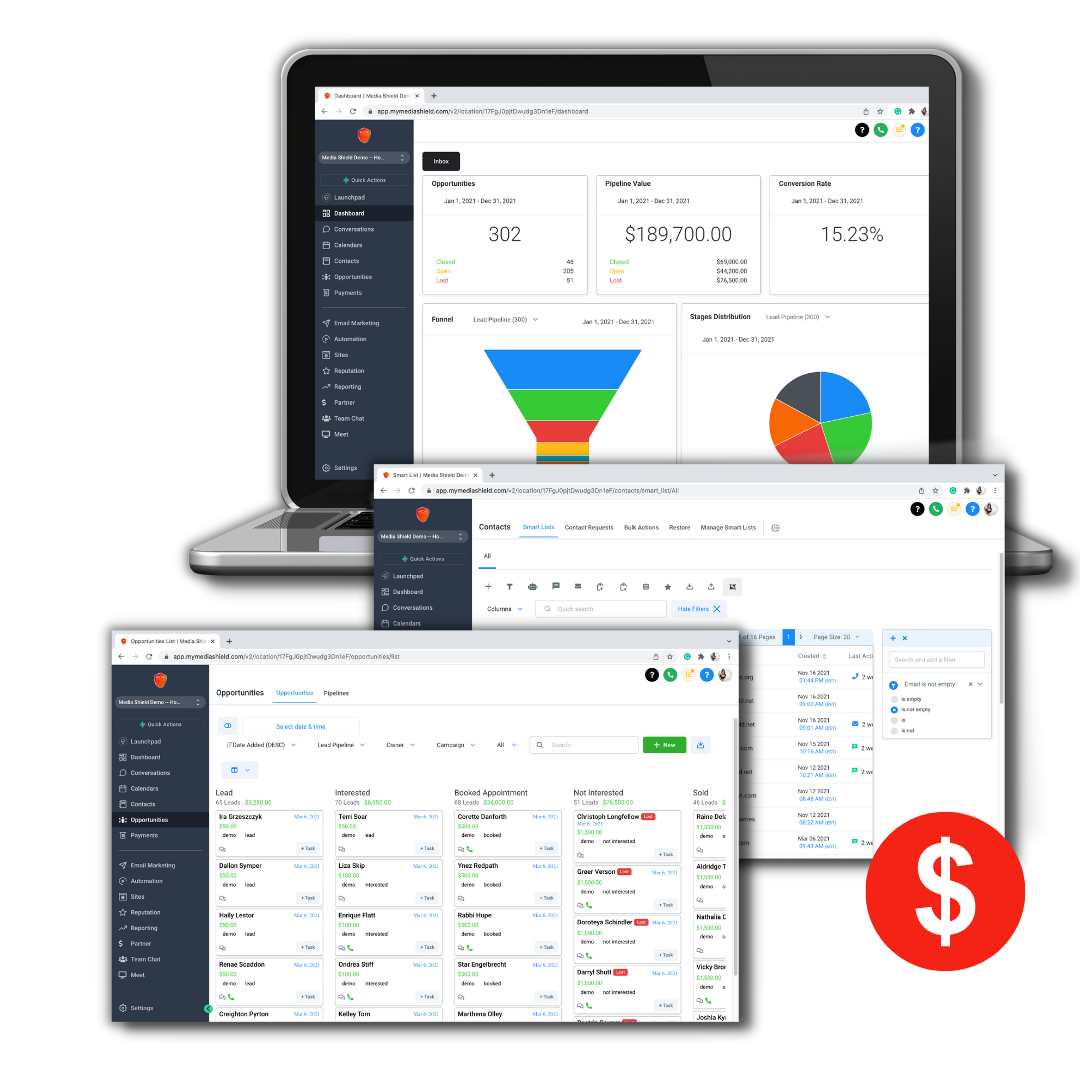 Increase sales with our efficient lead management system.
Lead management is a complex process that requires your undivided attention. With our efficient and user-friendly system, we've made it simple for you! Whether you are a furniture store, an advertising company or a consulting agency, our lead management system is effective and convenient for your business.

✔︎ Automate lead assignment to your team members.
✔︎ Get notified when a lead advances to the next stage of the pipeline.
✔︎ Advanced contact filters to easily group your leads.
✔︎ Intuitive dashboard and reports generation.
All of your messaging apps in one!
You can use all your messaging apps in one place! Say goodbye to juggling between Facebook, WhatsApp, Messenger, SMS, Email, and all other apps just so you don't miss any important conversations or information! With our software services you get:

✔︎ Communicate more effectively and easily with your coworkers and consumers.
✔︎ Organize and manage all your communications in one location.
✔︎ Stay in control of any important news and updates.
✔︎ Increase your productivity and respond faster to your clients.
Access your CRM wherever you are.
It's now possible for you to conduct business as usual wherever you are. With Media Shield app, you can keep track of your entire CRM, just on your phone. Your business can be managed digitally even if it is a restaurant, a furniture store, or a consulting agency!

✔︎ Access your real-time Sales reports wherever you are.
✔︎ Easily sync your contact list.
✔︎ Organize your calendars and appointments with ease.
✔︎ Quick and easy access to all your messages at any time.
✔︎ Monitor, Respond or coordinate any action with your customers and your team.
Ensure open and effective collaboration with your Team!
Your team members will be able to do their jobs better by always having the right tools in-hand. As a digital marketing agency, we realize the importance of effective communication with your customers and employees. With our system, you can easily coordinate or consult with your team any moment!

✔︎ Improved communication via Team Chat.
✔︎ Quickly and easily assign new tasks and leads.
✔︎Set-up smart notifications via email and SMS.
✔︎ Keep track of all ongoing projects.
We bring everything you need to solve your digital marketing problems in one place.
Media Shield has the trusted All In One CRM Solutions in Fayetteville, NC or Small Businesses. Our state-of-the-art CRM software provides you with lead management, advanced reporting and custom solutions to automate your business marketing and services.
A software seamlessly integrated with more than 1,000 powerful and daily used apps
Check out our most sought after services!
Marketing
Sales
Analytics
Operations
Marketing
Sales
Analytics
Operations
Schedule your 20-min demo call to walk you through the entire system.